Mirador del Laguito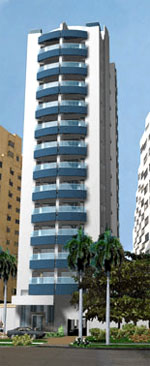 The Building counts with: A magnificent reception area that includes an administration office, a receptionist area and a meeting room. Crossing this area you will find two elevators with stops on each floor.
The building includes fire control system and an emergency electric plant that supplies energy to the elevators and the common areas when necessary.

The vehicular access is through an independent back gate towards the parking area, which is located on the first and second floor, offering a parking space for each apartment.

The common areas consist of:
Sunny green areas with facilities for cookouts. Also the residents will have the opportunity to enjoy a swimming pool, jacuzzi, sauna, steam bath, fitness facility, a spacious clubhouse, game area for children and laundry facilities.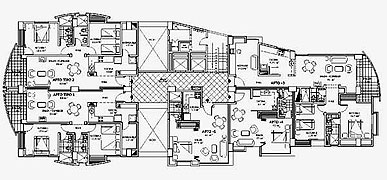 Apartment Type 1 & 2

Total Area: 83 mt2

It consists of a balcony as wide as the apartment, 1 master bedroom with bathroom, a second bedroom, a bathroom for the social area and the bedroom, a living room - dining room, a kitchen, a service area and storage.

Floors
Apartm #
Area
Price List
Price in
US 2,000
SOLD
14 PH
1401
120
267,600,000
133,800
14 PH
1402
120
267,600,000
133,800
13
1301
80
144,000,000
72,000
SOLD
13
1302
80
144,000,000
72,000
SOLD
12
1201
80
144,000,000
72,000
SOLD
12
1202
80
144,000,000
72,000
SOLD
11
1101
80
144,000,000
72,000
SOLD
11
1102
80
144,000,000
72,000
SOLD
10
1001
80
144,000,000
72,000
SOLD
10
1002
80
144,000,000
72,000
SOLD
9
901
80
144,000,000
72,000
SOLD
9
902
80
144,000,000
72,000
SOLD
8
801
80
140,400,000
72,000
SOLD
8
802
80
140,400,000
72,000
SOLD
7
701
80
135,000,000
72,000
SOLD
7
702
80
135,000,000
72,000
SOLD
6
601
80
135,000,000
67,500
SOLD
6
602
80
166,000,000
83,000
5
501
80
135,000,000
67,500
SOLD
5
502
80
166,000,000
83,000
4
401
80
126,000,000
63,000
SOLD
4
402
80
153,550,000
76,775
3
301
80
117,000,000
58,500
SOLD
3
302
80
153,550,000
76,775
Parking space
9,000,000
4,500






Apartment Type 3

Total Area: 99 mt2

It consists of a balcony as wide as the apartment, 1 study room, 1 master bedroom with bathroom, a second bedroom, a bathroom for the social area and for the bedroom, a living room - dining room a kitchen, a service area and storage.

Floors
Apartm #
Area
Price list
Price in
US 2,000
SOLD
14 PH
1403
130
252,000,000
126,000
SOLD
13
1303
99
180,000,000
90,000
SOLD
12
1203
99
180,000,000
90,000
SOLD
11
1103
99
180,000,000
90,000
SOLD
10
1003
99
180,000,000
90,000
SOLD
9
903
99
180,000,000
90,000
SOLD
8
803
99
180,000,000
90,000
SOLD
7
703
99
180,000,000
90,000
SOLD
6
603
99
171,000,000
85,500
SOLD
5
503
99
171,000,000
85,500
SOLD
4
403
99
162,000,000
81,000
SOLD
Parking space
9,000,000
4,500






Apartment Type 4

Total Area: 43 mt2

It consists of a balcony as wide as the apartment, 1 study room, 1 master bedroom with bathroom a living room - dining room and a kitchen.

Floors
Apartm #
Area
Price list
Price in
US 2,000
SOLD
14 PH
1404
70
130,500,000
65,250
SOLD
13
1304
43
78,000,000
39,000
SOLD
12
1204
43
78,000,000
39,000
SOLD
11
1104
43
78,000,000
39,000
SOLD
10
1004
43
78,000,000
39,000
SOLD
9
904
43
78,000,000
39,000
SOLD
8
804
43
78,000,000
39,000
SOLD
7
704
43
78,000,000
39,000
SOLD
6
604
43
69,000,000
34,500
SOLD
5
504
43
68,000,000
34,000
SOLD
4
404
43
68,000,000
34,000
SOLD
3
304
43
60,200,000
30,100
SOLD
Parking space
9,000,000
4,500






Apartment Type 5

Total Area: 45 mt2

It consists of a balcony as wide as the apartment, 1 study room, 1 master bedroom with bathroom a living room - dining room and a kitchen.

Floors
Apartm #
Area
Price list
Price in
US 2,000
SOLD
14 PH
1405
70
130,500,000
65,250
SOLD
13
1305
45
81,000,000
40,500
SOLD
12
1205
45
81,000,000
40,500
SOLD
11
1105
45
81,000,000
40,500
SOLD
10
1005
45
81,000,000
40,500
SOLD
9
905
45
81,000,000
40,500
SOLD
8
805
45
81,000,000
40,500
SOLD
7
705
45
81,000,000
40,500
SOLD
6
605
45
72,000,000
36,000
SOLD
5
505
45
72,000,000
36,000
SOLD
4
405
45
70,200,000
35,100
SOLD
3
305
45
63,000,000
31,500
SOLD
Parking space
9,000,000
4,500